52nd Street - Volume 1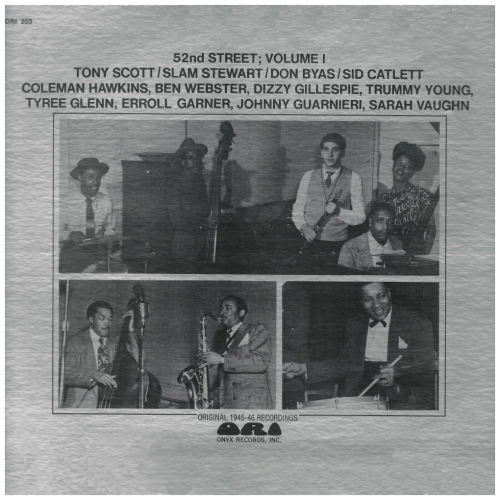 Artist:
Tony Scott, Slam Stewart, Don Byas
Format:
LP
Catalogue #:
ONYX 203
Condition:
Used Like New
Vinyl LP, jacket and sleeve in excellent condition.
Track Listings:
A1. Tony Scott - All Too Soon
A2. Tony Scott - Ten Lessons With Timothy
A3. Tony Scott - You're Only Happy When I'm Blue
A4. Slam Stewart? Three Blind Micesky
A5. Slam Stewart? Hop, Skip And Jump
A6. Slam Stewart? Blue, Brown And Beige
A7. Slam Stewart? Sherry Lynn Flip
B1. Don Byas? Super Session
B2. Don Byas? Embraceable You
B3. Don Byas? Melody In Swing
B4. Don Byas? The Sheik Of Araby
B5. Sid Catlett? Just A Riff
B6. Sid Catlett? What's Happenin'
B7. Sid Catlett? Mop De Mop Mop
B8. Sid Catlett? Before Long
Featuring:
Coleman Hawkins, Ben Webster, Dizzy Gillespie, Trummy Young, Tyree Glenn, Erroll Garner, Johnny Guarneri, Sarah Vaughan, Billy Taylor, Gene Ramey, Hilton Jefferson, Dick Vance, Matthew Meredith, Eddie Nicholson, Tony Scott.