All Star Swing Groups - The Savoy Sessions (2 LPs)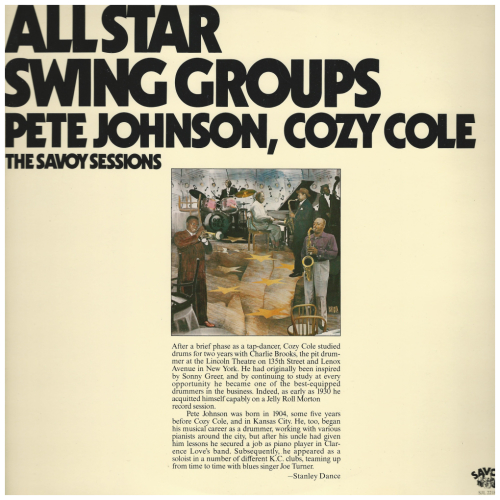 Artist:
Pete Johnson, Cozy Cole
Format:
LP
Catalogue #:
SJL 2218
Condition:
Used Like New
Double Vinyl LP, gatefold jacket and sleeves in excellent condition. 1976 Arista NY release! Shipped to you from Mississauga - Canadian all the way, right away! Please note - this is a Double VINYL LP, not a CD!
Personnel:
Tracks A1-5: Lamar Wright, Ray Conniff, Ben Webster, Johnny Guarneri, Teddy Walters, Billy Taylor, Cozy Cole;
Tracks A6-7, B1-6: Emmett Berry, Walter Thomas, Budd Johnson/Eddie Barefield, Coleman Hawkins, Johnny Guarneri, Max Shopnick/Sid Weiss, Cozy Cole;
Tracks B7, C1-7, D1-2: Hot Lips Page, J.C. Higginbotham, Albert Nicholas, Ben Webster, Pete Johnson, Jimmy Shirley, Al Hall, J.C. Heard;
Tracks D3-8: Hot Lips Page, Clyde Bernhardt, Don Stovall, Budd Johnson, Pete Johnson, Jimmy Shirley, Abe Bolar, Jack Parker, Etta Jones.